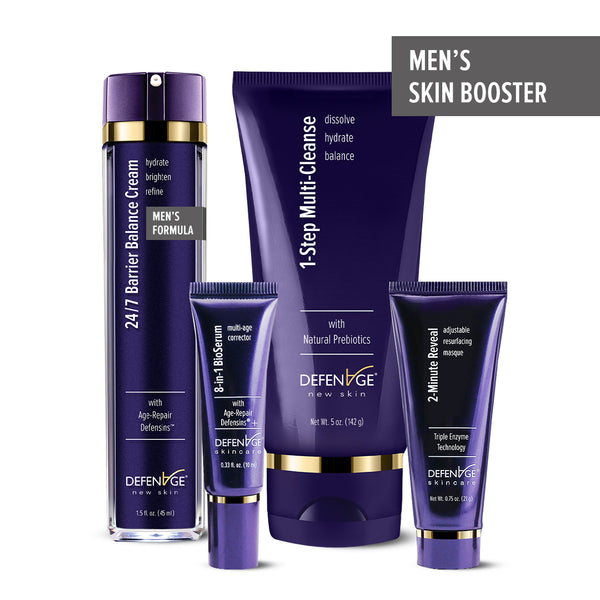 Defenage Men's Skin Booster Kit
Men's Skin Booster is a juiced-up version of the Men's Skin Provision system. We recommend using the Booster once or twice a year to jumpstart the skin for high-performance and following with the Provision kit for skin maintenance until the next boost. The Booster is a complete, professional-grade, annual skin detailing service tailored to men's need.
The Men's Skin Booster concept was developed after multi-year clinical studies and observations proved that the extra dose of Defensin-molecules "boosts" skin to repopulate with fresh, new, and young cells when done at least annually. This combination produces outstanding benefits for the look and appearance of the skin and overall visible skin health.
The Booster kit is designed to work up to 6 weeks. During the first, "boosting" 2-3 weeks, we will ask you to use all 4 products found in the kit, and then complete the rest of the time with daily cleanser and moisturizer.
What The Men's Skin Booster Does
•  Jump starts the health of the skin to look fresh, energized, and young.
•  Provides a complete service for the skin.
•  Optimizes skin regeneration and cell turnover.
•  Boosts skin clarity.
•  Repairs the skin moisturization system and fills the skin up to its natural hydration level.
•  Optimizes the natural healing cycle and calms signs of inflammation.
•  Normalizes signs of visible redness.
•  Boosts healthy skin immunity.
•  Reduces the appearance of pores and wrinkles.
•  Boosts the appearance of skin tone, smoothness, and texture.
•  Initiates the pore-cleaning cycle.
•  Provides deep cleaning of the skin and removes surface debris, air pollutants, oils, soap residuals, and sweat build-ups.
•  Polishes the skin surface and fades skin imperfections.
•  Corrects visible signs of skin exhaustion, damage, and aging on a global scale.
Why The Men's Skin Booster Is Different
•  Provides a professional-grade skin detailing service and initiates regenerative renewal.
•  Contains the highest-possible (boosting) concentration of Defensin-molecules, proven in natural skin renewal power.
•  Backed by US Patent No. 11,491,096, nineteen clinical studies, and advanced regenerative-medicine and dermatology research.
•  Enables instant results.
•  Perfect for skin restorative treatment.
•  Effective for all skin types and all stages of skin aging.
•  Non-irritating and gentle on sensitive skin.
•  Evolved from DefenAge's first generation of products for men, the Men's Kit.
---