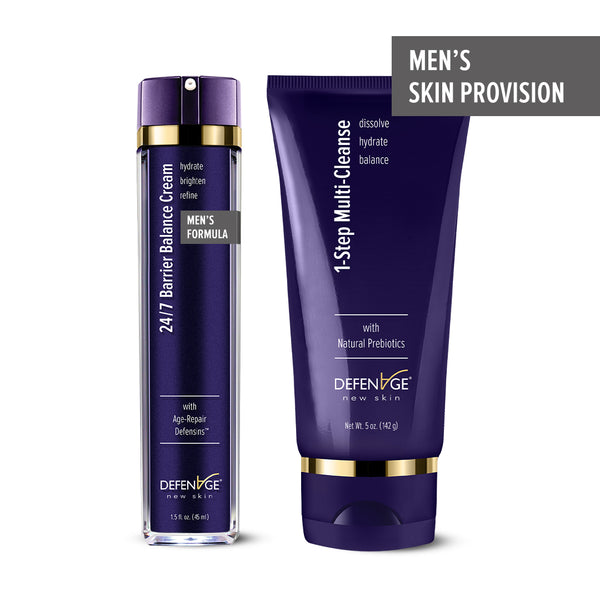 Defenage Men's Provision Kit
Men's Skin Provision Kit Details
Men's Skin Provision is a scientifically proven, easy-to-use skincare system tailored and formulated directly to the unique needs of men's skin. It is designed for daily skin maintenance and promotes healthy skin that looks fresh, energized, and young.
The core of the system is our new innovation, the 24/7 Barrier Balance Cream Men's Formula. We discovered a way to make men's moisturizer just as effective as our award-winning, clinically proven multi-step regimen, cutting down on time and steps and creating a more simple and efficient system for men.
The Provision kit is enough to last up to 6 weeks if used as recommended.
What The Skin Provision Kit Does
•  Promotes healthy skin that looks fresh, energized, and young.
•  Maintains skin clarity.
•  Replenishes skin moisturization and keeps hydration on the natural balanced level.
•  Repairs and maintains the skin barrier function.
•  Facilitates the natural healing cycle and controls signs of inflammation.
•  Reduces visible redness.
•  Promotes and maintains healthy skin immunity.
•  Visibly reduces the appearance of pores and wrinkles.
•  Improves overall tone, smoothness, and texture.
•  Helps clean pores and liquify in-pore build-up.
•  Effectively removes sweat, oils, surface debris, and air pollutants from the skin.
Why The Skin Provision Kit Is Different
•  Patented, scientifically proven technology: Defensin-molecules naturally renew skin.
•  Backed by 19 clinical studies and advanced regenerative-medicine research.
•  Initial results appear in the first days of use.
•  Effective for all skin types and all stages of skin aging.
•  Non-irritating and gentle on sensitive skin.
•  Perfect for everyday use, as well as post-workout restorative skin treatment.
---